ATTENTION All Mechanics and Technicians! Looking for a new job in the new year? We're hiring now!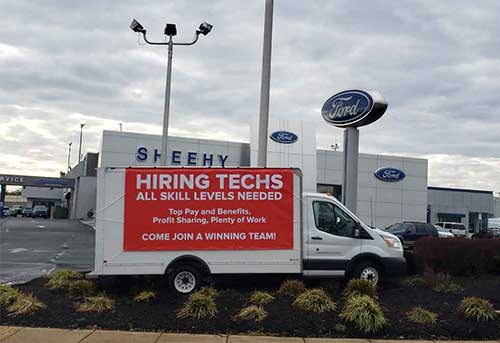 Whether you have very little experience or a lifetime of experience working as a technician we'd love to have you join our team! We're looking for dedicated men and women who have an interest in learning and growing their skill set.
Depending on your skill level your responsibilities will differ but ultimately everyone is responsible for keeping an organized and safe bay and diagnosing and repairing domestic and foreign vehicles. We provide terrific benefits and excellent pay as well as fostering a great company wide culture of inclusivity and fun. And we have tons of opportunities to grow within the store and the company. Click here to learn more about your opportunities for growth with Sheehy Ford of Springfield.
Not only will you reap the benefits of working for Sheehy Ford of Springfield, you'll also benefit from working with a certified Ford store. If all this sounds interesting to you, then don't waste another second! Click on the contact us button below to inquire about our available technician positions.