At Sheehy Ford of Springfield we love giving back to our communities through food and clothing donations as well as sponsorships and monetary donations. Throughout the year we are constantly donating books, clothing, food and more as part of our many charitable campaigns. Additionally, every year we participate in the Sheehy Auto Stores' Annual Giving campaign. During this year's Annual Giving Campaign, we donated $5,000 to the Good Shepherd Catholic Church.

Good Shepherd Catholic Church is devoted to helping their parishioners and others in our local community thrive and grow. They have many different charitable giving campaigns and events all geared towards helping people learn new skills, better themselves personally and improve their lives. We are so happy that we could help out our community by donating to a safe haven like Good Shepherd Catholic Church.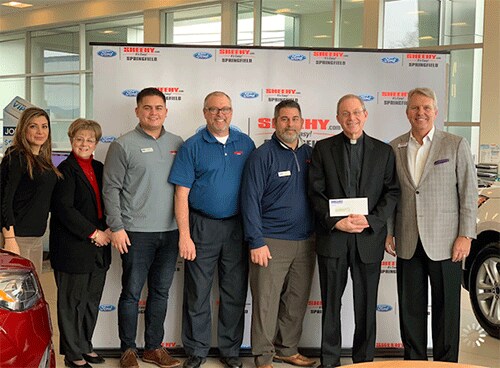 L to R: Tina Fiajoo, Claudia Fiebig, Joe Blanco, Dave Perrin, Anthony Schifano, Reverend Thomas P. Ferguson, Roger Keller.